Zhang Jianguo, Vice Secretary of CPC ZJCM Committee and Vice President of ZJCM, attended the Launch of the Global Call for Musical Works for the 19th Asian Games Hangzhou 2022 and Partnership Signing Ceremony at Zhejiang Radio&TV Group on the evening of 23 June 2020.
As partners, Zhejiang Conservatory of Music and Hangzhou Asian Games Organising Committee will collaborate in Asian Games musical part including the global call for musical works for Hangzhou Asian Games (Collegiate Division) and spread of Asian Games music. ZJCM will contribute to the 19th Asian Games Hangzhou 2022 along with Zhejiang Radio&TV Group, NetEase Music and TikTok.
ZJCM students from Pop Music Department and Music Education Department performed at this globally live-streamed ceremony.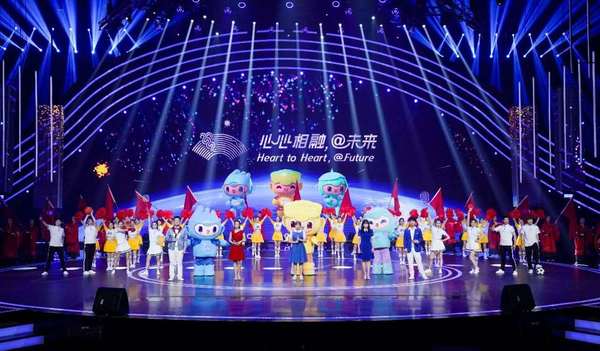 Further Reading: News Release from The Olympic Council Of Asia
Hangzhou Asian Games calls for musical themes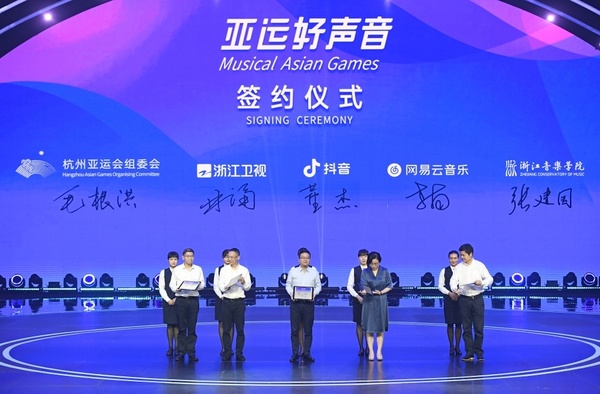 Partnership Signing Ceremony
Hangzhou, China, June 23, 2020: The global call for musical themes for the Hangzhou Asian Games in 2022 was launched on Tuesday night of Olympic Day as the well-known Asian Games songs such as "Asian Treasures" and "East Sunrise" were played, reports Xinhua News.
The President of the Olympic Council of Asia, HE Sheikh Ahmad Al-Fahad Al-Sabah, said in his letter of congratulations that he hoped musical themes of the Hangzhou Asian Games would show the unique charm of Chinese culture and spread the Olympic spirit. He hoped also that the music would not only be loved by people across China but also by people all over the world.
The solicitation phase is set to last for two years, according to the Hangzhou Asian Games Organising Committee.
"To host a successful Asian Games we need a collection of outstanding musical works," Chen Weiqiang, Deputy Secretary-General of HAGOC and Vice Mayor of Hangzhou, said at the ceremony.
All submissions should be complete and feature original lyrics or music. The closing date of the first stage is November 30, 2020, according to HAGOC.
The 19th Asian Games will run from September 10-25 in Hangzhou, capital of Zhejiang province in eastern China and famous for UNESCO World Heritage sites such as the West Lake and the Grand Canal.
It will be the third time for China to host the OCA's premier event, following Beijing in 1990 and Guangzhou in 2010.
(Source: The Olympic Council Of Asia ; Link: https://ocasia.org/news/872-hangzhou-asian-games-calls-for-musical-themes.html)