Zhejiang Conservatory of Music (ZJCM)
PROFILE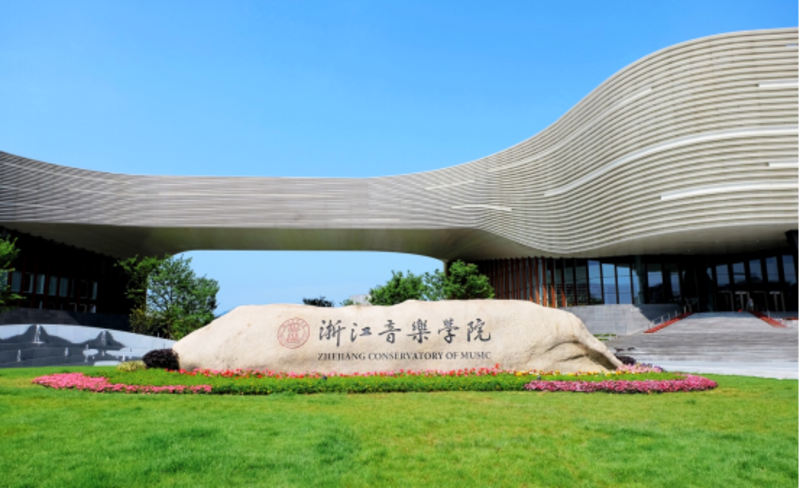 Zhejiang Conservatory of Music (ZJCM) is a public full-time art university with the approved registration from the Ministry of Education of PRC. ZJCM was established by the People's Government of Zhejiang Province, and is co-sponsored by the provincial government and Department of Culture & Tourism of PRC.
The conservatory is situated in Hangzhou, the capital city of Zhejiang Province in east China, the city with three world cultural heritages: the West Lake, the Grand Canal, and Archaeological Ruins of Liangzhu City. ZJCM boasts beautiful scenery and well-equipped facilities. Its campus covers an area of 100 acres with a total floorage of 360,000 square meters. ZJCM possesses 1 grand theater, 3 concerts, 3 theaters, 2 studio halls, 104 rehearsal halls, 935 piano rooms, 8 recording studios, 1 library, and other teaching aids and art practice venues.
ZJCM offers 8 learning majors, among which Musicology, Music Performance, Composition & Music Theory, Dance Studies, and Performance are the national first-class majors for undergraduates, while Dance Choreography, Performance, and Art & Technology are the provincial first-class majors for undergraduates. The conservatory houses 12 academic departments: Department of Composing & Conducting, Department of Musicology, Music Education Department, Department of Piano, Department of Vocal & Opera, Chinese Traditional Instruments Department, Department of Orchestra, Pop Music Department, Dance Department, Department of Drama, Department of Music Engineering, and the School of Humanities & Social Sciences. Besides, there are School of Continuing Education, School of Entrepreneurship, School of International Education, and Li Shutong School (school for talents of excellence). The conservatory boasts provincial and ministerial-level research institutions such as the Key Laboratory of Digital Music Intelligent Processing Technology of the Ministry of Culture & Tourism, the Zhejiang Engineering Research Center of Digital Music, and the Zhejiang Literature and Arts Creation Research Center. It also features many university-level research platforms: Institute of Higher Education for Music, Institute of Theatre Studies, Institute of Musicology, Institute of Dance Studies, Institute for Advanced Studies in Art & Cultural Management, and Institute of Music Culture. Also, the conservatory sets up five new performance Academies: Orchestra Academy, Chinese Music Orchestra Academy, Opera Academy, Chamber Music Academy, and Choral Academy. It also boasts high-level practice ensembles such as Chamber Philharmonia, Chinese Music Chamber Orchestra, Symphony Orchestra, Chinese Music Orchestra, and the Choir. ZJCM is also home to the Editorial Board of the journal Music Culture Studies. Oriented for an international conservatory, ZJCM has signed strategic cooperation agreements with over 30 internationally prestigious institutions, such as Royal Academy of Music and Royal Northern College of Music in the UK, Liszt Academy of Music and Eotvos Lorand University in Hungary, Milan Conservatory in Italy, and has established the China-CEEC Music Academies Union for deeper international exchanges and cooperation. ZJCM has been approved by the Ministry of Education to set up independent art majors by following the set art standards and to enroll students nationwide. Currently, the conservatory has over 2,800 undergraduate students and over 600 graduate students. It is staffed with over 650 faculty members, including over 430 full-time teachers.
ZJCM is committed to artistic excellence as a premier music education institution and strives to engage with the global community and build a strong bond with conservatories, arts organizations, institutions and businesses across the world.