The Eight Second Choir of ZJCM awarded outstanding contribution in the 11th World Symposium on Choral Music
The Eight Second Choir of Zhejiang Conservatory of Music (ZJCM) was acknowledged for its outstanding contribution by International Federation for Choral Music (IFCM) in the 11th World Symposium on Choral Music held in Barcelona, Spain during 22-29th July 2017.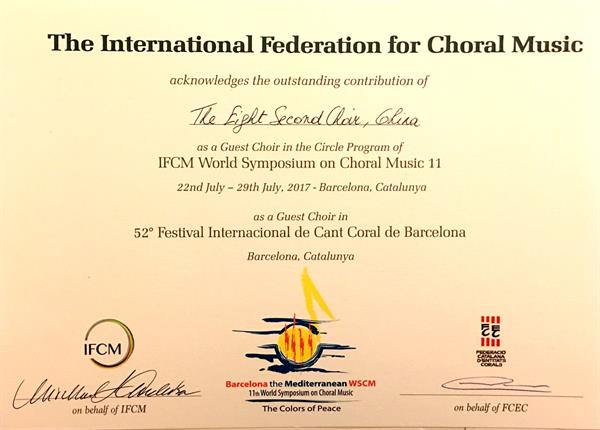 As the one and only junior choir on behalf of China in the Symposium, The Eight Second Choir of ZJCM presented "the colors of peace" – the theme of this year's Symposium – with 17 Chinese choir music peaces including several world premiers in languages of 13 ethnic groups, which fully demonstrates the pioneering technique of The Eight Second Choir and the cultural diversity in China.
The Choir's first performance in El Prat de Llobregat in the evening of 25th July received thunderous applause, and the conductor Prof. Yan Baolin was interviewed by local media on that night. Another performance of the Choir was held in Sant Pere de les Puelles in Barcelona with Viva Youth Voices from Canada. The voices from East and West met across far distance in this old church building, touching all the audience with glories of civilizations.
The Board members of IFCM visited The Eight Second Choir of ZJCM at the hotel, and IFCM President Ms Emily Kuo Vong met the head of ZJCM delegation and member of ZJCM CPC Committee Mr Fang Peixin, the choir conductor Prof. Yan Baolin and all the choir members. Mr Fang Peixin thanked the Board members of IFCM for their visit and kind praise to The Eight Second Choir, and warmly welcomed them to visit ZJCM. The Choir gave an impromptu performance in return.
Mr Fang Peixin also visited Escola Superior de Música de Catalunya to discuss possible cooperation with ZJCM in the future.